Rebecca Paredes May 28th, 2016
When I moved out to the big city for the first time, the first thing I did — after experiencing existential angst and questioning my life choices, per usual — was join a mixed martial arts gym. I did it because I wanted to find something that would help me meet new people and feel like a badass in the process, and I became a happier, punchier person because of it.
I also lowered my resting heart rate, which is arguably one of the healthiest things I could have done.
Before I had moved, my resting heart rate was an average of 72 resting beats per minute (BPM), which is considered an "above average" heart rate for my age group (18 to 25). Now, six months later, I'm in the 59 resting BPM range — a number that, according to a 2011 study, suggests that I'm 40% less likely to die of heart disease because I'm under 70 BPM.
A lower resting heart rate is directly correlated with a huge boost in your general health, a decreased risk for high blood pressure (HBP), and probably superpowers. Want to lower your heart rate? Wearable tech can help you. Here's how.
What Is Resting Heart Rate?
There's a difference between resting heart rate and how quickly your heart beats when you're working out. At rest, a normal heart rate for adults is between 60 to 100 beats per minute. A lower heart rate implies more efficient heart function and better cardio, which explains why athletes have resting heart rates in the 40 BPM range.
What does exercise have to do with resting heart rate? Everything, as it turns out.
Regular exercise helps the ventricles in your heart accommodate greater volumes of blood, which means that it takes more time for your heart to pump all that red stuff. I know, that sounds scary.
But remember high school biology class: if your blood is swirling around your heart for a longer period of time, that means that more oxygen and nutrients are being delivered to body and heart muscle. The end result is that your heart becomes a better, stronger, and more efficient machine, which can only mean good things for your health over time.
There's one caveat: this whole process only works with aerobic exercise, which refers to the type of exercise that is both difficult and sweaty. While walking for an hour on a treadmill technically counts as working out, it won't get your heart rate up as much as interval training, running, swimming — or any activity that meets the following goals provided by the Cleveland Clinic:
The exercise uses large muscle groups (legs, back, shoulders, etc.) repetitively for a sustained period
It's approved by your doctor
It lasts 30 to 60 minutes, three to five days per week
You enjoy doing it
Keep in mind that different situations will naturally impact your resting heart rate. For instance, certain medications will cause a dip in BPM; emotions, body size, and even air temperature can also impact heart rate readings. Always ask your doctor before you start a new health program.
But working out is hard, especially if you haven't yet found a physically demanding exercise that you genuinely enjoy doing. Why bother lowering your normal resting heart rate in the first place?
Why You Should Lower Your Normal Resting Heart Rate
Lowering your average heart rate isn't an isolated activity — it has a ripple effect that improves the entire way your body functions. For instance, there's a reason your doctor always checks your blood pressure when you get a physical: it paints an important picture of your overall health.
Like a deep love of tacos and monthly get-togethers, high blood pressure (HBP) runs in my family, so I have a personal interest in making sure I reduce my chances of getting the disease as much as possible. After all, HBP is a symptomless condition that's sometimes called "the silent killer." And while your risk can increase due to factors outside of your control — like age, gender, and race — HBP is also caused by vices. Namely, obesity, alcohol, smoking, and physical inactivity.
With that in mind, here's how a lower heart rate can boost your health:
Decrease your risk of HBP: Regular, moderate intensity exercise can help prevent and treat high blood pressure
Power through fat: Aerobic exercise helps your body deliver more fatty acids to your muscles for energy, which means that your body can use fats more efficiently
Reduce stress: Regular exercise and healthy sleep habits can lower your resting heart rate, reduce stress, and even boost your general sense of well-being
I can attest to that last benefit. There was a definite turning point at which I started to truly enjoy going to my gym, San Diego Combat Academy. I didn't attend classes consistently during my first few months at the gym; I felt like a poser because I didn't know much about combat sports. I would stand around my Muay Thai class watching my instructor, veteran UFC fighter Liz Carmouche, kick and punch and move like a proper badass.
But after a while, I stopped skipping class. I started moving around plans and skipping happy hours so I could go to the gym, and it wasn't because of one, sing-songy moment — it was because I enjoyed what I was learning about my body and the sport, and I loved the way I felt after putting myself through hell for an hour or two of classes.
Muay Thai has become the relief I turn to when I've had a long day. Your relief could come from running, yoga, or weightlifting, or whatever gets your blood pumping and makes you feel like a healthy warrior — the best kind of warrior.
Ready to lower your resting heart rate? Here's how.
How To Lower Resting Heart Rate
This is easier said than done: you need to live a healthy lifestyle. This doesn't mean that you need to start running everywhere and only eating plants — it means that you need to be aware of your body and the effects your actions have on it. Wearables make this mega-easy.
Here are the features you should look for in a wearable:
Heart Rate Tracking
While nothing quite beats the accuracy of a heart rate chest monitor, wearables give you a basic idea of your normal heart rate — and how that number changes when you exercise. You should try to hit a target heart rate, which is the optimal exercise intensity to boost your heart rate without risking overexertion.
As a general rule of thumb, your maximum heart rate is 220 minus your age. Your heart rate during moderately intense physical activity should be about 50% to 69% of your max.
Here's a handy chart to help you determine your target heart rate:
Make sure you pick a wearable that tracks your heart rate over time, and that illustrates different trends based on your sleep habits, daily routine, and — of course — physical activity levels. If it only measures passive heart rate, like the first version of the Jawbone Up 3, you won't get a full picture of your ticker.
Sleep Monitoring
You need to get some decent shut-eye if you want a healthy heart rate. When you sleep, your blood pressure and heart rate naturally decrease. People who are sleep-deprived show elevated BPM, which can be a one-way ticket to the danger zone.
Plus, waking up to a jarring alarm clock can actually start your day on a poor note. In one study, researchers used sound to wake people multiple times. After each noise-induced wakeup call, heart rates spiked 13 BPM on average.
Reach for a wearable that will not only help you monitor your sleep quality, but will also help you wake up at the lightest part of your sleep cycle. Following your body's natural sleep rhythms will help you avoid feeling groggy when you wake up — and it'll ensure that you get the most healing rest possible.
Activity Tracking
Remember when everyone was freaking out about the fact that sitting around all day is the new smoking? Too much sitting can increase your risk of death from cardiovascular disease and cancer, which is horrifying — but it can be counteracted by incorporating some healthy switches into your day. Namely, walking.
Wearables with advanced activity tracking features, like the Apple Watch and some Fitbits, will actually buzz to let you know when you've been stationary for too long. Don't want to be bothered by a wearable all day? Almost every wearable functions as a pedometer, which will help you reach a goal of 10,000 steps per day. That small incentive can make your routine just a little more active.
The Best Wearables To Lower Your Resting Heart Rate
So, which wearable should you pick? The best pick depends on your budget and whether you want a fitness tracker or a smartwatch (or both). Here are some of our favorites.
Garmin Vivoactive HR, $249.99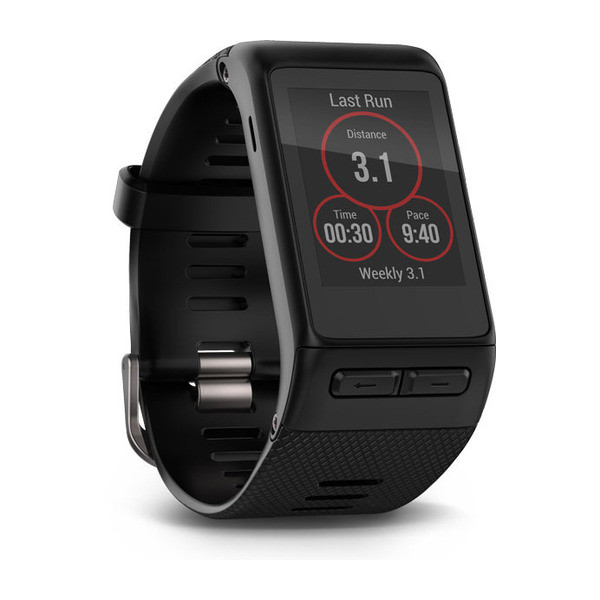 Heart Rate Monitoring
Garmin Vivoactive HR boasts what most other wearables cannot: it's waterproof. Swimmers, rejoice! Not only does this wearable track your heart rate and heart rate zones, it tracks your calories burned — and it's loaded up with GPS.
Sleep Tracking
This wearable's sleep stats include total hours of sleep, periods of movement, and periods of restful sleep. It also has automatic sleep tracking, so you don't have to set it into sleep mode before you go to bed. However, the sleep tracker doesn't have a smart alarm feature — which could be a dealbreaker if you want an all-in-one wearable.
Activity Tracking
Kudos to Garmin for incorporating tons of different sports into the design of this wearable. If you're a swimmer, golfer, rower, skier, or snowboarder who is tired of not having your activity represented among wearables, then this device is made for you. The Garmin Vivoactive HR also covers the bases by tracking your steps. Plus, it features a move alert to remind you to walk around after long periods of inactivity.
Microsoft Band 2, $249.99
Heart Rate Monitoring
The Microsoft Band 2 continuously tracks your heart rate throughout the day (as opposed to the Jawbone Up 3, which only tracks it periodically). The wearable also comes with GPS, which is essential for any wearable at this price point.
Sleep Tracking
This device automatically tracks your sleep quality using biometric data, such as heart rate and motion. It also comes equipped with a smart alarm to wake you up at the optimal time. In the app, you'll find sleep data like how long it took you to fall asleep, how many times you woke up, and your resting heart rate while you slept.
Activity Tracking
While guided workouts aren't a necessity, they're nice to have —and the Microsoft Band 2 totally has them. While this device doesn't automatically detect your workout, it lets you control your music straight from the band, which is a feature that not all wearables offer.
Microsoft Band 2 only comes loaded with a few basic exercise types — elliptical, yoga, rowing, stair climbing, and weightlifting — but you can customize your workout type before you begin.
Fitbit Blaze, $199.95
Heart Rate Monitoring
The Fitbit Blaze's PurePulse heart rate monitor tracks a little bit of everything: your heart rate, heart rate zones, and even calories (and fat) burned. It also has a GPS connection, which will allow you to run without having to rely on your phone to track your route.
Sleep Tracking
The Blaze's sleep tracking feature is consistent among all Fitbits: these devices automatically monitor the length and quality of your sleep, and they'll wake you up with a silent alarm at the optimal part of your sleep cycle. As an added bonus, you can easily view all your sleep data in Fitbit's user-friendly app.
Activity Tracking
While Fitbit Blaze does what other Fitbits can do — track your steps, distance, floors climbed, active time, and idle time — it is uniquely awesome because it offers on-screen FitStar workouts, and it automatically detects your exercise.
Fitbit Charge HR, $149.99
Heart Rate Monitoring
Like the Blaze, the Fitbit Charge HR offers PurePulse heart rate monitoring, which will both track your heart rate and show you when you're within target BPM zones. It doesn't have GPS or a big, beautiful screen like the Blaze, but it's also $50 cheaper. The Fitbit Blaze is a good pick if you want an all-inclusive fitness tracker with full heart rate monitoring features.
Sleep Tracking
Like the Blaze, the Fitbit Charge HR tracks your sleep quality, detects when you're asleep, and wakes you up with a smart alarm. That data syncs to the Fitbit app, which displays your sleep trends.
Activity Tracking
You won't get a handy FitStar coach with the Charge HR because of its tiny screen, but you do get all the activity tracking features you want to keep your heart rate low — namely, steps taken, calories burned, active and idle time, and automatic workout detection.
Jawbone Up 3, $129.99
Heart Rate Monitoring
Jawbone Up 3 tracks passive heart rate (a measurement of your heart rate at regular intervals throughout the day) and resting heart rate (which Jawbone measures right when you wake up). Note that the Jawbone Up 3 is not equipped with GPS, so you'll have to bring your smartphone along if you want to map your run.
Sleep Tracking
As a sleep tracker, Jawbone has a unique advantage because it's super slim and comfortable. It has automatic sleep detection, so you don't have to fumble around in the dark to set it on sleep mode, and it automatically measures deep, light, and REM sleep. Bonus points: the Jawbone Up 3 has a smart alarm to gently wake you up at the lightest part of your sleep cycle. Plus, the app provides you with advice to improve your sleep quality.
Activity Tracking
Track your steps, calories burned, distance, and even exercise type with the Jawbone Up 3. Plus, you'll get a gentle nudge when you've been idle for too long, and the app's Smart Coach feature will encourage you to "make informed and healthy choices and celebrate you along the way." Who doesn't want to feel celebrated?
Which wearable would you want to use to track your heart rate? Tell us about it in the comments.