Logan Strain March 24th, 2017
The latest Gear smartwatch from Samsung is a sophisticated piece of wrist-worn technology. To get the most out it right out of the box, here's how to set up the Samsung Gear S3.
How To Set Up Samsung Gear S3
1) Charge It Up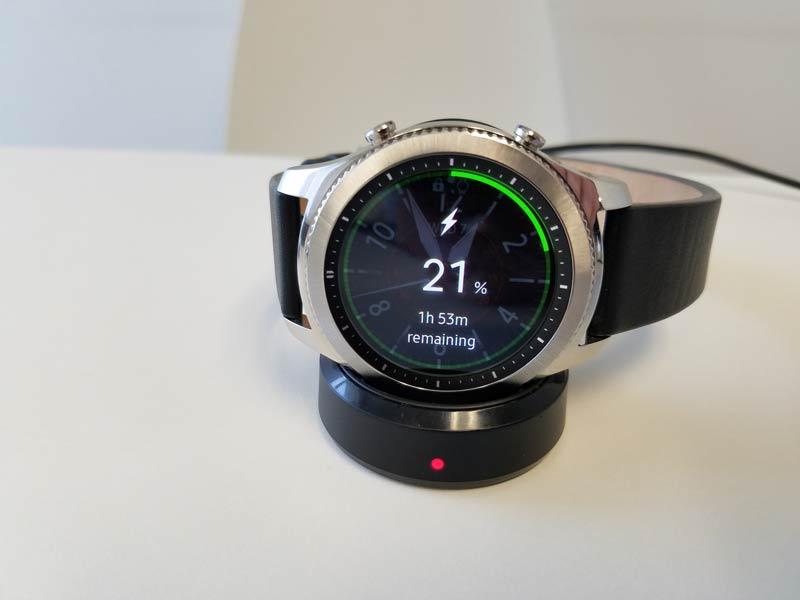 The Samsung Gear S3 comes with a wireless charging dock, USB-C cable, and USB outlet adaptor. Simply plug the USB-C cable into the adapter and charging dock, plug the adapter into an outlet, and place the watch on the dock.
2) Download The Samsung Gear App
You can pair the Samsung Gear with any smartphone that runs Android 4.4 or higher. While that's charging, download the Samsung Gear App on your Android device. You can get it from the Google Play store.
3) Turn It On
Turn the Samsung Gear S3 on by pressing and holding the bottom right button for one second.
4) Pair With Your Device
From the Samsung Gear App on your phone, select "Connect To Gear."
The Bluetooth window will appear and display a passkey.
After confirming the passkeys match, select the check mark on your Gear S3.
5) Back Up Your Gear's Data On Your Smartphone
If you want to protect the data on your Gear S3, you can back it up on your smartphone.
Open your Samsung Gear App
From your settings, choose "About Gear."
Select "Backup And Restore," then "Backup Data."
Your watch be be backed up automatically.
6) Download Your Apps
Your Gear S3 is set up and ready to use! Now it's time to decide which apps and watchfaces you want. From your Galaxy Apps app, select "Gear."
You can download apps that help you catch an Uber, watch Youtube videos, or even play games. Here are some of our favorite Gear S3 apps.
7) Choose Your Watch Face
To choose a new watch face, press on the display for one second. The current watch face will recede, and then you can swipe left or right to view all available watch faces. Once you find one that you like, just tap on it. You can download new watch faces in the app store.
8) Set Up Your Gear S3 Widgets
Which apps do you think you're going to use most frequently? You can set those up as widgets that you can quickly access.
Swipe or rotate the bezel to view a widget
Press the edge you want to move or remove
To delete the widget, select the minus button
To move it, drag it left or right to your desired location
To add a new widget, scroll the very end of the widgets and select "Add New Widget"
9) Set Up Samsung Pay
Samsung Pay compatibility is one of the coolest features of the Samsung Gear S3. It's especially great because it's not just compatible with NFC terminals — you can also pay on old-school credit card swipe readers.
To set it up, simply hold and press the top right button on the Gear S3. Your phone will automatically walk you through the steps to add a credit card. After you're set up, then you can hold and press the same button again in order to pay at a terminal.
10) Set Your "Get Moving" Reminders
By default, your Gear S3 is set up to remind you to get moving after you have been sitting for an hour. If you need the reminder to stand up, it's a great feature. But it can sometimes get annoying.
To disable it, go to the S Health app on your watch. Then go to the "Settings" icon and tap on it. Select and adjust your "Inactive Time."
How To Restart The Samsung Gear S3
There are two ways you can reset your smartwatch: a soft reset and a master reset (also called a "factory reset").
How To Soft Reset
Press and hold the bottom right button
This will open the utilities menu
Select "Reset"
How To Master Reset
Warning: The master reset will delete all data on your Gear 3 and restore it to its original factory settings. Here's how to do it:
From the "Apps" screen, go to "Settings."
Select "Gear Info"
Select "Reset Gear"
Tap the checkmark to confirm
If you backed up your information on your smartphone, you will be able to restore the data you had on your watch before the master reset.