Heidi Redlitz November 23rd, 2016
Even if you're a super-parent with a keen spidey sense and eyes at the back of your head, you can never be sure where your child is at all times. Without a tracking device for kids, it's impractical and impossible. Sometimes your children get lost, wander, or run away. Sometimes they just forget to tell you where they are.
You can't control everything that happens to your child. But you can have a backup plan in case they go missing. Here's a list of 12 wearable GPS devices (in order from most to least expensive) that will help you keep track of your kids!
1. HereO GPS Kids Tracker
The HereO is a durable, water-resistant GPS location tracker with a cellular connection. It syncs with iOS and Android devices to show parents real-time pinpoint tracking, location alerts, and check-in/out notifications. It also has a tamper alert system to notify family members if the device has been removed — plus a lock feature for children who try to remove the device.
Pros: HereO's accompanying app can send you location notifications in case your child isn't where they're supposed to be! It's one of the smallest GPS tracking devices for kids, and it comes in four colors.
Cons: It only has a 60-hour battery life, and it doesn't offer two-way calling.
Price: $199, plus $4.95 monthly subscription after the first three months. The HereO GPS Watch is sold out, but you can pre-order it here.
2. SAFE Kids Paxie Band
This wristband is a GPS device and activity tracker. It monitors ambient temperature, heart rate, and activity, and it alerts parents if the device is removed from the child's wrist. The Paxie Band has a very simple design that comes without a panic button — which could be beneficial if you don't want your child to send a false alarm.
Pros: The Paxie Band is the only GPS device that is also an activity tracker. It's made of a durable, antibacterial plastic. It comes with three interchangeable bands.
Cons: The Paxie Band doesn't include voice or text options, and its cuff-like style might be bulky for small wrists.
Price: $175, plus a monthly $9.99 service fee. The Paxie Band is currently sold out, but you can pre-order it here.
3. Loc8tor GPS Tracker
The Loc8tor GPS Tracker attaches to your child's pocket, belt, or backpack. This GPS tracking device sends real-time location updates, alerts you if your child wanders past the virtual safe zone that you set up on the tracker, and includes a built-in panic button that lets your child alert you in case of emergency.
Pros: Loc8tor is one the most popular GPS tracking devices for kids.
Cons: With the monthly subscription fee, the Loc8tor is one of the most expensive GPS kids trackers.
Price: 129.99, plus 1 to 12 month subscription fees ($59.99 to $179.99).
4. FiLIP2
The FiLIP 2 is a kid-friendly wrist watch, GPS locator, and cell phone that syncs to your iOS or Android device. It's lightweight, durable, water-resistant, and comfortable for small wrists — making it an ideal GPS device for active kids.
Pros: The FiLIP 2 is the only kids GPS device that has two-way text messaging. It comes in four colors, and it can be adjusted for your growing child.
Cons: This GPS watch can only store five contacts.
Price: $149.99, plus $10 monthly service fee for texting.
5. Tinitell
Tinitell is a no-frills wrist phone and GPS locator for toddlers and young children. It works with Android and iPhone devices and can use a SIM card from any cell network provider. Tinitell uses voice recognition, instead of a phone log or dialing pad, to make phone calls — so all your child has to do is say your name and press the button. The Tinitell is waterproof and radiation-proof, and its battery life can last up to a week with one charge.
Pros: Tinitell is an easy-to-use, noninvasive wristband that fits toddlers and young children. Plus, it can store up to 12 contacts.
Cons: Tinitell is more expensive than similar GPS kid trackers.
Price: Tinitell is currently sold out! (You can register your email address to be notified when the next batch is ready.) The first shipment was around $129.99 (not including a monthly subscription), though the next round will probably cost more.
6. PocketFinder
This PocketFinder is a durable location device for children who are prone to breaking or taking off their wearable tracker. It's made with durable plastic and has two unique features: a "tap alert," which allows your child to send an SOS message by tapping the device three times on a hard surface; and an accelerometer, which alerts parents if the device exceeds the preset speed (an indicator that the child has been kidnapped in a car).
Pros: It's accident-proof and great for travel, and it's designed to fit in a pocket or backpack.
Cons: The PocketFinder is not a wristband, so it might get lost or forgotten if it's attached to your child's backpack or pocket.
Price: $129.95, plus monthly service plan of $12.95 (in the US) and $29.95 (international).
7. Amber Alert GPS Locator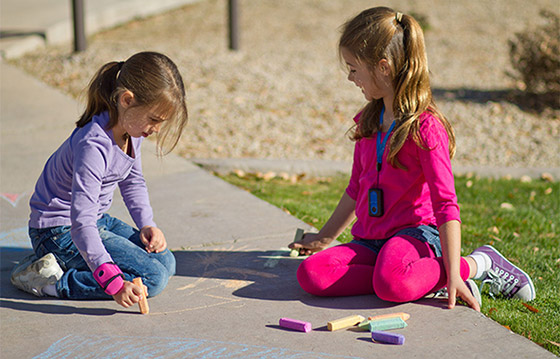 The Amber Alert GPS Locator is a water-resistant safety device that offers three standout features: an accelerometer, two-way voice calling (with embedded AT&T SIM card), and an alert (via voice, text, email, and GPS tracking) that notifies parents when their child is within 500 feet of a registered sex offender. You don't have to be an AT&T customer to use the Amber Alert GPS Locator; you can just create an AT&T account and keep your current cell provider.
Pros: It costs less than competing kid trackers, and it can be worn multiple ways: around the neck (on a lanyard), on the wrist, or in your child's backpack or pocket.
Cons: It only allows one voice contact.
Price: $125, plus $15 or $18 monthly service fee (for SMS text alerts), or $10 monthly fee for no text alerts.
8. Trax GPS Tracker
Trax is the most sophisticated GPS kid tracker on the market. It includes real-time mapping, an accelerometer, a USB charging port, and a prepaid SIM card that works in over 30 countries.
Pros: The Trax GPS Tracker is great for travel. It uses geo-fencing, so you can be notified if your child crosses the boundaries you set. You can create a schedule to monitor specific areas, and you can share tracker information with anyone who has the app.
Cons: Trax is a clip, not a wristband — which makes it easier for your child to lose or forget it.
Price: $99, plus prepaid monthly service fees of $4 to $6.75
9. LG GizmoPal
The GizmoPal is available for Verizon Wireless customers. This water-resistant, durable wristband uses GPS and Verizon's LG connection, and it includes two central features: one-button calling and an auto-answer, which allows parents to immediately get in touch with their children when they call.
Pros: GizmoPal is practical for young children.
Cons: GizmoPal is only available for Verizon Wireless users.
Price: $79.99, with a $5 monthly service fee.
10. My Buddy Tag
My Buddy Tag is a lightweight, waterproof wristband that uses Bluetooth to connect to your Android or iOS. My Buddy Tag has two main functions: it tracks your kid's GPS location, and it alerts parents when the wearable has been under water for five seconds.
Pros: Buddy Tag is a GPS tracker that can also prevent accidental drowning. Because you can sync multiple My Buddy Tag wristbands to your phone's app, it's useful for field trips and active days when you have to watch over multiple children. It comes in five colors and can be switched out with disposable silicone or terry cloth wristbands.
Cons: Buddy Tag has limited range: 40 feet indoors and 80 to 120 feet outdoors. Its terry cloth and Velcro wristbands are not as durable as competing plastic or silicon GPS bracelets.
Price: $39.99 for BuddyTag plus wristband, and $14.97 for an extra disposable wristband.
11. Lineable
This waterproof, Bluetooth-powered location device is a bare-bones wristband that looks more like a Fitbit than a GPS tracker. Lineable's accompanying app uses "crowdsource GPS" so anyone with the app can help parents locate a missing child.
Pros: Lineable is the most affordable GPS child tracker on the market. It's simple, sleek, and doesn't require a battery charge.
Cons: Lineable GPS trackers only last one year, and they have a limited tracking range of 65 to 98 feet.
Price: $12.99
12. FlashMe Sydney
FlashMe Sydney isn't a tracker; it's more like a digital ID tag. This silicone wristband has a printed QR code with contact information, so in case your child gets lost, someone can scan the QR code to contact the parents.
Pros: FlashMe Sydney is incredibly affordable! Plus, it's helpful for young children who can't remember their address or phone number.
Cons: This wristband doesn't actually track your child; it just gives strangers a way to get in touch in case your child goes missing.
Price: $5
13. KOREX Waterproof Babysitter Smartwatch
The KOREX Babysitter Smartwatch comes with two-way talking, SOS emergency alerts, and even a smart alarm for homework reminders. You'll receive instant notifications if your child leaves a specifically indicated area, and you can preload up to 16 contacts so your child can contact someone if things go wrong.
Pros: It uses two tracking methods: GPS and LBS. It comes in two colors (pink and blue), and it only receives calls from specific contacts.
Cons: It only lasts two to three days, so you'll have to make sure it's regularly charged.
Price: $59.99
14. AngelSense
The AngelSense is specifically designed for children with special needs. Parents can listen in on their child's device to hear what's happening around them, and keep a log of the child's activities throughout the day. Like other devices, AngelSense connects to an app to send you notifications when your child arrives and leaves from designated places.
Pros: AngelSense has an array of features tailored specifically to caring for children with special needs, including an interface that allows parents to work with school staff on their child's care.
Cons: The monthly service plan is pricey, and you can't communicate with your child through this device.
Price: $149 for the device, plus $44.99 monthly service plan and $25 activation.
A missing child is every parent's worst nightmare. But thanks to these devices, you have an extra set of eyes on your precious children!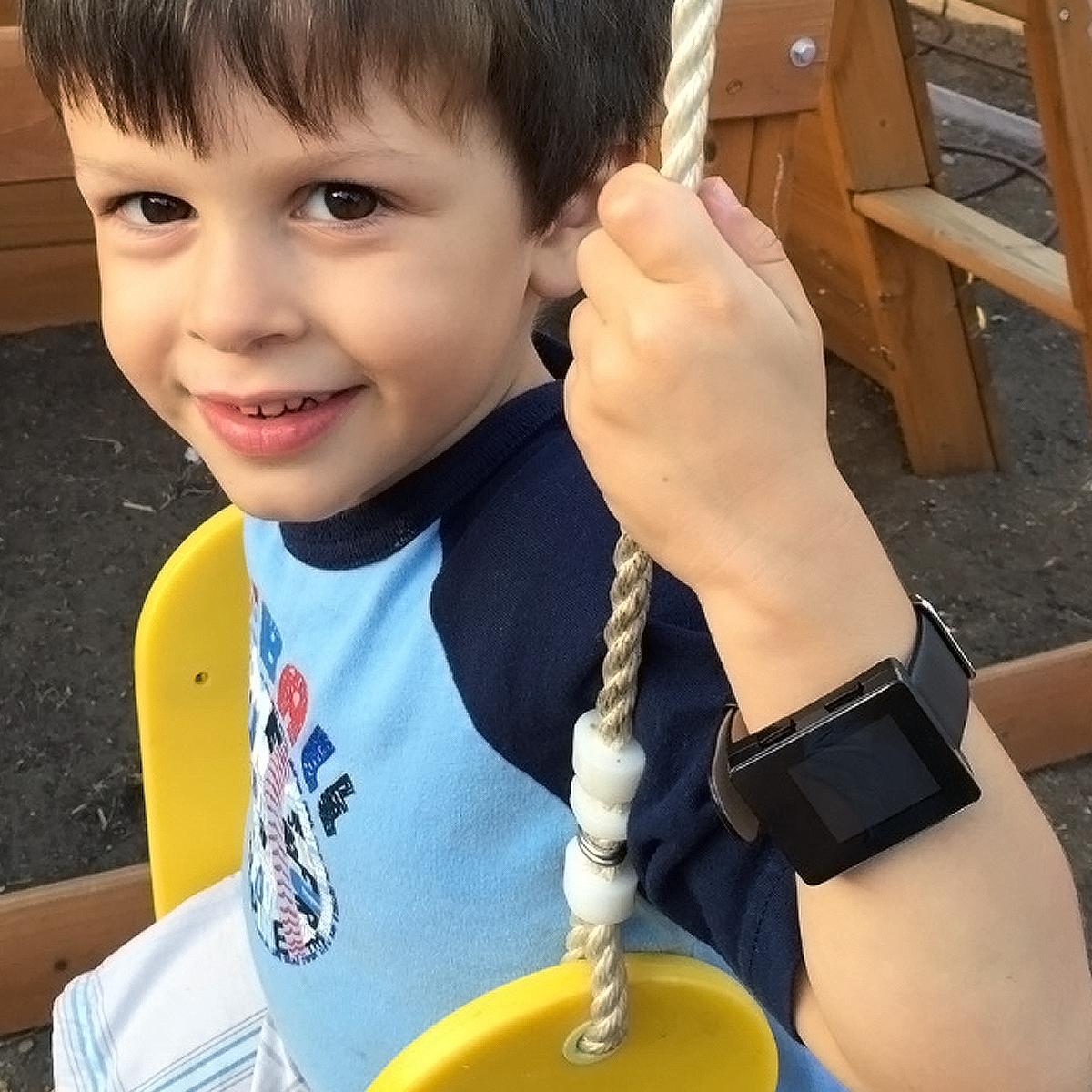 Have you ever used a GPS tracking device to monitor your kids? If so, which brand do you recommend? Let us know in the comments below!