Reviewed By: Conor Hockett on February, 17th 2017
A beautiful display, tons of features, comfortable wristband — the Samsung Gear Fit 2 seems to have it all. But while the makings of a top-tier fitness tracker are there, it's the little things that hold it back.
Poor water-resistance, no voice-to-text, and a limited selection of true multi-sport options prevent the Gear Fit 2 from standing among the best Fitbit and Garmin models. It's still an appealing buy at $179.99, but based on potential, the Gear Fit 2 disappoints.
Samsung Gear Fit 2: Features
Fitness Tracking
Fitness tracking is remarkably responsive and accurate on the Gear Fit 2. The device recognizes exercise patterns quickly and delivers real-time feedback on steps and calories burned. Even though it doesn't have an altimeter, the Gear Fit 2 also measures the number of floors you ascend. It confuses small inclines and hills for staircases at times, but that's not a deal breaker. Technically, the Gear Fit 2 has multi-sport options, but they aren't as advanced as workouts on a comparable device like the Garmin Vivoactive HR. Running and cycling are the only sports available on Samsung's second-generation tracker, and neither of them produce any data that isn't available on one of the other 14 exercises. The Garmin has specific functionality for popular sports like golfing, skiing, and swimming.
Relative sports data might be lacking, but the Gear Fit 2 does have some unique features. During exercises like crunches and squats, the device tracks particular body movements to measure how many reps you completed for each activity. Users can also choose their target metric — calories, distance, duration, or a basic workout — for some exercises. That's a significant upgrade over the uniform options on the Fitbit Charge 2. Automatic activity tracking is another useful feature on the Gear Fit 2. Whenever I forget to designate a running or walking workout, the device quickly detects when I start exercising. This didn't translate to crunches and squats, but those activities rely on specific form, even when programmed. Overall, I'd say the auto detection is pretty effective.
Built-in GPS
My experience with the Gear Fit 2's built-in GPS was a mixed bag. The device took upwards of a minute to detect my position at times, but the recap of my walks and runs were always accurate. When I was away from buildings, and out in the open as the Gear Fit 2 suggests, the signal picked up much quicker. Along with your activity details, the tracker produces a small route picture immediately after your workout. An expanded view of your route is available within the Samsung Gear app.
Some users have voiced complaints that only one data point is available on each screen as you exercise, but that's not actually true. While calories burned, distance, and duration must be viewed on separate displays, heart rate is also visible at the bottom of each screen. I see how cyclists and runners might find swiping a hassle as they try to see different statistics, but I don't need constant updates. I just want all of my metrics in a digestible format at the end of each workout, which the Gear Fit provides.
Heart Rate Monitor
One of the biggest weaknesses of the Gear Fit 2 is heart rate monitoring. The device gives relatively accurate resting heart rate measurements — consistently within five beats of a chest strap — but that discrepancy jumps to around 10 or 15 beats off when you start working out. That's a strange pattern, considering the Gear Fit 2 continuously monitors your heart rate when exercising.
It's important to note that inconsistent heart rate monitoring is a common issue within the wearable tech industry, but a comparable device like the Garmin Vivosmart HR still offers more precise readings.
Sleep Tracking
The Gear Fit 2's auto tracking feature also translates to sleep detection, which is a nice touch. It's impossible for me to verify exactly when I fall asleep each night, but the device accurately recognizes when I wake up each morning. It records my habitual restroom and water breaks throughout the night as well.
You can view several sleep metrics, such as sleep efficiency, time spent asleep, and heart rate, on the Gear Fit 2, but more data is available through S Health in the app. This is where the device breaks down sleep quality into three categories — restless, light, and motionless — and displays them on a graph with corresponding times. Comparable devices like the Jawbone UP3 offer more advanced sleep data, but the Gear Fit 2's sleep tracking should satisfy most users.
Music Storage
The device has 512GB of RAM and 4GB of storage, so it holds quite a few songs. Music is sent to the the tracker through the Samsung Gear app. If you don't want to put your own music on the Gear Fit 2, you can also listen to songs from your phone with Bluetooth headphones. App support is limited on the device, but it does sync with Spotify.
Samsung Gear Fit 2: Software
The App
Outside of S Health, the Samsung Gear app is pretty bare. Users can share workout statistics, select watch faces, and more through the app, but it primarily acts as a management tool.
Other than reading material, S Health offers little more than the activity data already available through the device. With that said, I used S Health more than any other app platform. It breaks down all of your fitness metrics — including information on sleeping patterns — under the "Me" tab. You can also set goals, track daily progression, and view a weekly summary of activity within this category. There is a way to compare results and compete within the Samsung community, but it requires an account.
S Health is a decent fitness tracking platform overall, but Fitbit's app is easier to use and provides a more comprehensive health breakdown.
Notifications
Many fitness trackers display smartphone notifications, but they're somewhat sporadic and unreliable. In that regard, the Gear Fit 2 was a pleasant surprise. Calls, texts, social media alerts, Slack messages, and emails consistently registered on the device, and they actually appeared faster than the notifications I received on the Samsung Gear S2. The Gear Fit 2 doesn't have voice-to-text, but it still helps keep my phone in my pocket.
Beyond being just an extension of my phone, the Gear Fit 2 also has several different activity alerts. As the device tracks your movement, it keeps you informed on goal progression, sleeping patterns, and other prolonged periods of inactivity. These are small reminders, but they offer encouragement along the way.
Samsung Gear Fit 2: Battery Life
My device lasts between three to four days, which is the typical usage time advertised by Samsung. As a reference, I keep my screen brightness between six and seven, enable most of the available smartphone notifications, and don't use my GPS very often during exercise. The Gear Fit 2 has impressive GPS battery time — it lasts up to nine hours — but runners and bikers who track their distance won't get as good of a return from their battery.
When the Gear Fit 2 ran low on power, it typically took over an hour to fully recharge. The device charges through two magnets on the dock, which plugs into any USB port. Battery status is always available through the app or by swiping down on the screen.
Samsung Gear Fit 2: Design
Display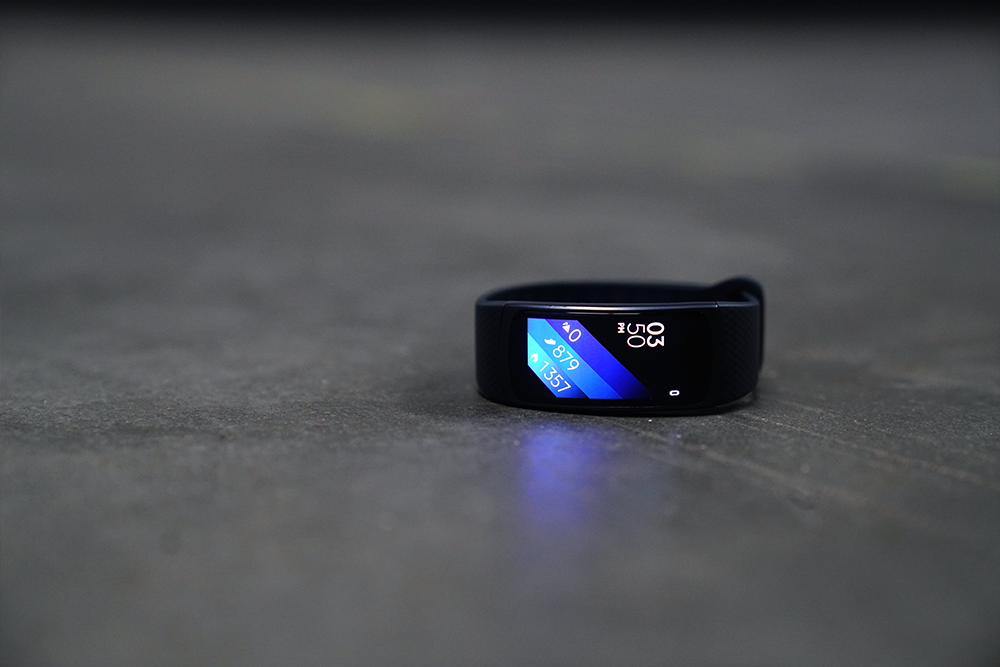 Thanks to its curved super AMOLED display, the Gear Fit 2 is one of the most aesthetically pleasing fitness trackers on the market. The sleek screen lights up when you rotate your wrist toward your face, or push either of the side buttons. Samsung's first generation model had a slightly bigger display, but the newer device has better resolution.
Much like a smartwatch, the Gear Fit 2 also lets you customize your display face. There are nine faces to choose from on the tracker, but more can be downloaded through the app. Each interface displays activity stats and other data in vibrant colors that encourage you to interact with the device
Water-Resistance
Poor water-resistance hurts the Gear Fit 2's case against other fitness trackers like the Fitbit Alta. Its IP68 water rating protects against splashes, rain, and sweat, but it can't go in the shower or pool. Having to take the device off for any reason, even if it's just to shower a few times a day, hampers its overall effectiveness.
Based on its IP68 water rating, users can actually take the Gear Fit 2 nearly five feet deep for up to 30 minutes. But because different shower heads produce varying water pressure levels, showering still isn't recommended. With that said, I accidentally showered with the device on twice, and it still works fine.
Wristband
An underrated part of any wearable is the wristband holding it in place. Outside of the Moto 360 Sport, the Gear Fit 2 has no equal in terms of comfort. Its elastomer band is soft, sleek, and lightweight. The rubber also doesn't attract dust or pull my hair out when it gets sweaty.
Gear Fit 2 bands are available in small and large sizes, which fit wrists anywhere from 125 to 210 millimeters wide. This might seem like a small detail, but some wearables are one-size-fits-all, and people with smaller wrists are often left swimming in their devices.
The only downside of the band is the new clasping system. I actually prefer the Gear Fit 2's push system to a buckle, but the device has a tendency to unhook when things brush across the underside of my wrist.
Samsung Gear Fit 2: Worth It Or Not?
At first glance, the Samsung Gear Fit 2 looks like a must-have wearable. It has built-in GPS, heart rate monitoring, automatic sleep detection, smartphone notifications, and more — all for just $179.99. But when you dive into the finer details of water-resistance and workout options, the Gear Fit 2 may have spread itself too thin. The sporty design and host of features are enough to satisfy most users, but fitness fanatics should look elsewhere.